Tech Day By Virtu.Academy
Welcome to Virtu.Academy
Please choose
one

of the following options below to complete your assignment by 2/20/19:
Upload Recording for Review:
Make a recording of you performing your solo. Don't worry if you make mistakes! Our teachers are here to give you helpful feedback, not critique every small mistake.

Click the "Upload Recording" link below.

Complete the form to upload your recording.
OR
Schedule a 30-minute, online lesson:
Click your instrument from the list below.

Select your teacher and click "Book A Lesson."

Choose your teacher from the list and pick a time that works for you. NOTE: Please check the timezone.

You will receive an email with instructions on how to join the lesson.

Desktop and laptops are recomended. You may also download the appear.in app on your personal mobile device. NOTE: Your school issued iPads will not allow you to download the app.
IMPORTANT: The lesson must be scheduled between 2/20 and 2/25 to receive credit.
If there are no available times for your instrument, please email hello@virtu.academy, and we will provide you with more available times.
Questions?
If you have any questions about the assignment, please email us at hello@virtu.academy or use the live-chat button on the bottom right.
Wyeth Aleksei, originally from Laurel, Maryland, has had the privilege of performing with orchestras from around the world including, the Metropolitan Opera, the Malta Philharmonic Orchestra, and the Jacksonville Symphony. As an orchestral musician, Aleksei has performed on numerous concert stages including Carnegie Hall, The Metropolitan Opera House, Kimmel Center in Philadelphia, Symphony Center in Chicago, and the Kennedy Center. He has also performed with many world-renowned conductors including Alan Gilbert, David Robertson, Marin Alsop, John Adams, Gerard Schwartz, and Robert Spano. He has also participated in many summer music festivals including the Aspen Music Festival and School, the National Orchestral Institute, and the Eastern Music Festival. Aleksei graduated from Oberlin Conservatory with a Bachelor's of Music and is currently studying for a Master's of Music at the Juilliard School. His teachers include, Mark Gould, Chris Martin, Roy Poper, Raymond Mase and Chris Gekker.
Benjamin Steger
Classical Trumpet. Jazz Trumpet.
Ben Steger is a recent graduate from Oberlin College where he studied Biochemistry and Trumpet Performance. He has been teaching classical and jazz trumpet for over 9 years and has worked extensively with music education foundations, including Jazz St. Louis and the St. Louis Symphony Youth Orchestra. In addition to his teaching experience, he has performed around the country, including with the All-National Jazz Ensemble. He is currently studying with Eddie Henderson (who studied with Louis Armstrong and Miles Davis) and Roy Poper, (who played on many movies, including Jurassic Park and the Simpsons, as well as in the LA Chamber Orchestra). He is excited to pass on everything he learned from his incredible teachers to his own students!
President of the Music Mentor program at Oberlin

Intern at St. Louis Symphony education department

Intern at Jazz St. Louis education department

Member of the NAfME all-national jazz ensemble

Member of the St. Louis Symphony Youth Orchestra

Founder of Virtu.Academy
Max Bessesen is a performer, composer, and educator based in Chicago, IL. His skills as a saxophonist and woodwind doubler have taken him across five continents and earned him awards from organizations including Downbeat Magazine, and the Frank Huntington Beebe Fund. Max has performed and recorded with artists as diverse as Dayna Stephens, Simone Shaheen, and Isaac Slade (of The Fray). He performs with a variety Chicago ensembles, leads his own group, and is one part of the collective quartet Echoes. Max holds degrees in Jazz Saxophone Performance and Law & Society from Oberlin where he studied with Gary Bartz, Eddie Henderson, and Billy Hart.
Birsa Chatterjee
Saxophone.
Birsa Chatterjee is currently a fourth year jazz performance student at Oberlin Conservatory of Music. He was a part of the nationally recognized and award winning jazz education programs such as Jazz House Kids and Jazz at Lincoln Center. Birsa has played in Carnegie Hall, the Blue Note Jazz Club, Dizzy's Club Coca Cola, NJPAC and in countries like Peru and India aside from the United States. He has had the opportunity to share the stage with some of the jazz greats like Christian McBride, McCoy Tyner, Roy Hanes, Wynton Marsalis, Kenny Barron, and Jimmy Heath to name a few. Birsa is currently under the mentorship of saxophone legend Gary Bartz.
Lauren is a current fourth year at Oberlin pursuing degrees in Horn Performance and History. She has attended various summer music festivals including Interlochen Arts Camp, Boston University Tanglewood Institute, NSO Summer Music Festival, and Aspen Music Festival. She has been the secondary lessons teacher at Oberlin for two years, and also has taught area high school students for the past year. She believes in establishing a strong and well-rounded foundation in fundamentals accompanied by a healthy amount of repertoire for young brass players.
Virginia district, regional, and All State band and orchestra

Past and current teachers include Prof. Roland Pandolfi, James Nickel, Andrew Bain, David Wakefield

Masterclasses with Martin Hackleman, Denise Tryon, and Jeff Nelson

Performances with Oberlin orchestras, contemporary ensembles, and the Wilder Brass Quintet
Antonia Chandler
French Horn.
Antonia Chandler is a Master of Musical Arts candidate at the Yale School of Music, studying with William Purvis. Originally from Seattle Washington, Antonia received a Master of Music from the Yale School of Music, and a Bachelor of Music from the Oberlin Conservatory of Music where she studied with Roland Pandolfi and received Kappa Lambda Honors.

Antonia has been a soloist with the Silver Bay String Quartet (NY) and the Oberlin Sinfonietta, and has performed on the Danenberg Honors Recital at Oberlin and the Oberlin Commencement recital. She was recently a finalist in the Woolsey Hall Concerto Competition, performing Britten's Serenade for Tenor, Horn, and Strings with tenor James Reese. She has performed in venues such as Carnegie Hall, the DiMenna Center, and Chicago Symphony Center, and has attended music festivals including the Round Top Festival Institute, Atlantic Music Festival, Eastern Music Festival, SoundSCAPE Composition and Performance Exchange, and Lake George Music Festival. She has performed with the Danbury Symphony, the Wooster Symphony Orchestra, and the College Light Opera Company.

Antonia has teaching experience as a brass coach with the Northern Ohio Youth Orchestras, as a Youth Symphony Staff Member at Blue Lake Fine Arts Camp, and as a secondary lessons teacher at Oberlin Conservatory. In addition to studying horn, Antonia enjoys an active singing career, performing professionally with Yale Schola Cantorum and as a staff singer at Trinity Parish Church in Southport, CT.
Jaimee Reynolds
French Horn.
French Horn player Jaimee Reynolds has performed in several locations across the U.S., including Texas, New York, and Washington D.C.. She has performed and toured with orchestras, bands and chamber groups. Ms. Reynolds attended and graduated from the Interlochen Arts Academy. Afterwards, she began pursuing her musical dream at the Cleveland Institute of Music, and is currently continuing her dream at The Juilliard School.
Jaimee has performed with many groups such as The Juilliard Orchestra, the New York Chamber Players, and The Cleveland Institute of Music Orchestra. In high school she earned the opportunity to perform on tour with The East Shore Wind Symphony, which traveled around Michigan. She has also performed with various chamber groups such as brass quintet, woodwind quintet, and horn quartet. Ms. Reynolds has been a fellow at the Round Top and National Symphony Orchestra Summer Music Institutes. She is also on staff at the Interlochen Arts Camp.
Jaimee was born and raised in Alpena, Michigan, where she began her musical career at age 11. She studied privately with Mr. Brian Carter for 6 years until beginning her studies with Mr. Corbin Wagner at the Interlochen Arts Academy for her senior year of high school. Afterwards, Ms. Reynolds began her Bachelor of Music degree at the Cleveland Institute of Music, where she studied with Mr. Richard King and Mr. Richard Solis: two past principal players of the Cleveland Orchestra. She is currently continuing her degree at The Juilliard School where she studies with Mr. Eric Reed.
Andrew Ennis
Classical Trombone
Andrew recently graduated from Oberlin Conservatory, where he studied under Lee Allen, with a B.M. in Trombone Performance. With 10 years of experience playing euphonium as well as trombone, Andrew is well versed in the pedagogy of all low brass instruments. As an alum of the Interlochen Arts Academy and current student at Oberlin, he has been fortunate enough to learn from some of the most elite members of today's low brass world and is excited to continue spreading this knowledge to the next generation of low brass players.
Stephen Whimple
Classical Trombone.
Stephen Whimple, 24, hailing from Clifton Park, New York, attends The Juilliard School as an Irene Diamond Graduate Fellow. He currently studies with Joseph Alessi, Principal Trombone of the New York Philharmonic. Prior to his graduate studies, Stephen completed his Bachelor's degree Summa Cum Laude at The Crane School of Music, at SUNY Potsdam, where he studied Applied Trombone with Dr. Mark Hartman, Dr. Charles Hopkins, and Jazz Trombone with Bret Zvacek. At Potsdam, Stephen performed with professional ensembles such as the St. Lawrence Orchestra, Orchestra of Northern New York, Central Winds Syracuse Wind Symphony, and Northern Symphonic Winds. In previous summers, Stephen has attended prestigious programs such as the Third Coast Trombone Retreat, the Texas Music Festival, the Hot Springs Music Festival, and the Chautauqua Institution. In 2018, he was selected as a finalist in the ITA Robert Marsteller Solo Competition, and in 2017 placed 2nd in the Texas Tech University Big 12 Tenor Trombone Solo Competition. Masterclass experience includes Boston Brass, George Curran, Tim Smith, Burt Mason, and Colin Williams.
Casey Kearney
Oboe. English Horn.
A New York native, Casey Kearney is a Master of Music candidate at the San Francisco Conservatory of Music, studying with Eugene Izotov, principal oboe of the San Francisco Symphony. She also holds a Bachelor of Music from Oberlin Conservatory having studied with Robert Walters, solo English horn of The Cleveland Orchestra. Her English horn playing was praised as "exquisite" by Cleveland Classical while on tour with the Oberlin ensembles, and she has performed with ensembles around the country, including the San Francisco Symphony upon starting study in the Bay Area. She has attended numerous music festivals, including Music Academy of the West (2018), National Orchestral Institute (2016) and the National Repertory Orchestra (2015). As a teacher and mentor, Casey has taught students of all skill levels in performing, reed making, and ear training.
Max Reese
Classical Clarinet.
Max Reese is currently a junior at the Oberlin Conservatory studying under Richard Hawkins. He previously studied with Charles Salinger. Masterclass performances include Anthony McGill, Ricardo Morales, Steven Cohen, Eugene Mondie, and Campbell MacDonald. He has held chairs at all of Oberlin Conservatory's large ensembles and has attended Brevard Music Center. He has performed under the baton of Joann Falletta, Keith Lockhart, Tim Weiss, Marcelo Lehninger, and Matthias Bamert. As a chamber musician, Reese can be heard with his wind quintet, The Guintet, on WCLV 104.9's "Cleveland Ovations" performing Poulenc's "Sextet." The Guintet has also been the winner of the Danenberg Honors Recital at Oberlin Conservatory. Max is excited to pass on everything he has learned from his incredible teachers and musical career to his students.
A native of the Dallas/Fort Worth area, Shelagh Haney is currently in her first year at the DePaul School of Music where she studies under the tutelage of Stephen Williamson. During her time in Chicago, Haney has participated as an Associate Member of the Civic Orchestra of Chicago as well as performed regularly in the DePaul Symphony Orchestra, including their recent Midwestern Tour.
Prior to her time in Chicago, Haney completed her Bachelors of Music at the Oberlin Conservatory under Richard Hawkins. During her time at Oberlin, Haney premiered many new works by and worked closely with composers such as Vijay Iyer, Kristen Kuster, Zosha Di Castri, Stephen Hartke, and Jesse Jones. As an active advocate for new music, Haney participated in a Residency with the International Contemporary Music Ensemble (ICE) at the Banff Centre for Arts and Creativity during the summer of 2017.
Kelsey Burnham
Classical Flute.
Kelsey Burnham is in her last year at Oberlin Conservatory where she studies baroque flute and recorder under the direction of Michael Lynn. A Baltimore native, she is a Baltimore School for the Arts alumnus. While in Baltimore, Burnham participated in numerous ensembles such as the Peabody Youth Orchestra, the Peabody Wind Orchestra, the Baltimore School for the Arts Orchestra, and various chamber ensembles. She has performed in cities such as Montreal, Philadelphia, New York, Baltimore, Cleveland, Bloomington, and Washington, D.C. Burnham has several years of teaching experience as well and has previously worked for the Baltimore Symphony Orchkids program where she taught kids as young as seven years old how to play the flute.
Bassoonist Joshua Elmore, 21, hailing from Shaker Heights, Ohio, officially began his music studies with Barrick Stees and Mark DeMio before joining the Young Artist Program at the Cleveland Institute of Music. During his high school years, Joshua was principal bassoonist of the Cleveland Youth Wind Symphony and was a member of the Cleveland Orchestra Youth Orchestra and regularly performed in Severance Hall. Joshua has also performed on NPR's From The Top and was selected to receive the Jack Kent Cooke Young Artist Award.

Joshua is currently a student at The Juilliard School, studying under Judith LeClair as the proud recipient of a Kovner Fellowship. Joshua has appeared numerous times in Carnegie Hall with the Royal Concertgebouw Orchestra, as a member of The Juilliard Orchestra, principal bassoonist of the New York String Orchestra Seminar and as a member of Carnegie Hall's National Youth Orchestra of the USA where he toured China and Europe with Charles Dutoit, Valery Gergiev and Christoph Eschenbach. Joshua attended the National Orchestra Institute in 2017 and recorded a Grammy-nominated album with Naxos. This past summer, Joshua was chosen to be a fellow at the Music Academy of the West in Santa Barbara, California. At the Music Academy, he was a finalist in the concerto competition and the London Symphony Orchestra Keston Music Academy Exchange Fellowship.
Chase Kuesel
Drums. Percussion.
Chase Kuesel is a drummer and composer from Cos Cob, Connecticut. An accomplished and versatile performer and teacher, his musical ensembles and affiliations have taken him across the world.

Kuesel graduated from Oberlin College and Conservatory in 2016 with a BM in Jazz Studies and a BA in English. He studied with Billy Hart, Jamey Haddad, Robin Eubanks, and Eddie Henderson throughout his time there. In 2017, he moved to Boston to begin his graduate studies on full scholarship at the Berklee Global Jazz Institute, where he studied with Danilo Pérez, Terri Lyne Carrington, John Patitucci, and Joe Lovano. While in Boston, he played and performed with Jason Palmer, Noah Preminger, Billy Buss, George Garzone, Julian Shore, and many other incredible musicians. He graduated from Berklee in June 2018 with an M.M.

Kuesel continues to actively perform and compose. He is currently living in Basel, Switzerland, where he performs with the internationally assembled ensemble Focusyear and renowned artists such as Dave Liebman, Billy Childs, and Ambrose Akinmusire.
Linnea Scott, of Chicago, IL, is a fifth-year student at Oberlin College and Conservatory of Music, studying German Literature and Cello Performance. She currently studies with Amir Eldan, but before coming to Oberlin, Linnea studied with renowned pedagogue Dr. Tanya Carey, a well known Suzuki method teacher. Though her cello training is primarily classical, Linnea is an avid singer and folk/world musician and has worked with the likes of the Punch Brothers, Aoife O'Donovan, and members of Yo-Yo Ma's Silk Road Ensemble. Her voice and theater background have provided her the tools to engage the whole body and mind of the student in their music playing, and she is constantly looking for new, creative ways to meet each student's needs and keep the learning fun.
A native of Loveland, Colorado, Jeremy Kreutz is pursuing his Master's degree at the Rice University Shepherd School of Music under the tutelage of cellist Desmond Hoebig. He received a Bachelor's degree from the Oberlin Conservatory, where he studied with Darrett Adkins. Jeremy has participated in the Brevard Music Center, Round Top Festival Institute, National Youth Orchestra of the USA (NYO-USA), and the Aspen Music Festival's Orchestral Fellowship program. In addition, he was a Young Artist at the Kneisel Hall Chamber Music Festival for the 2017 and 2018 seasons. During the summer of 2017, he was invited to perform alongside members of the International Contemporary Ensemble (ICE) as part of the Ojai Music Festival, premiering works by Vijay Iyer and Courtney Bryan. He has performed in masterclasses for musicians such as Johannes Moser, Joel Krosnick, Mark Steinberg, Saeunn Thorsteinsdottir, Gal Faganel, Joel Smirnoff, and Amit Peled, and was the winner of the Aurora Symphony and Greeley Chamber Orchestra concerto competitions. He considers community engagement an incredibly important aspect of his life, and has volunteered with numerous Elementary and Middle schools in Colorado as well as the state's El Sistema program.
Riley Calcagno
Banjo. Guitar. Fiddle. Mandolin.
Originally from Seattle, WA, Riley Calcagno has been immersed in old-time and classical music from an early age. He grew up at festivals around the Pacific Northwest learning fiddle directly from old masters of the style. He now feels at home on banjo, guitar, mandolin, and voice as well and is a founding member of The Onlies, a band described as "masterful" and "deliciously well-crafted" (Kithfolk) on the forefront of a new generation of traditional acoustic string music. The Onlies were the 2017 winners of the Appalachian Stringband Festival in Clifftop, WV and recently released a collaborative record with John Herrmann and Meredith McIntosh as the band The Ruglifters.

In addition to The Onlies, Riley performs with Vivian Leva. Together they have toured across Canada, the US, and the UK. Vivian's record Time Is Everything (feat. Riley Calcagno) has received wide critical praise since its release in early 2018. Rolling Stone Country wrote that it "shines a light on the past without giving up its place in the present" and Wide Open Country called the record "a triumph of lyricism and musicianship."

As a classical player, Calcagno has performed alongside Ludovic Morlot and the Seattle Symphony as Concertmaster and performed in master classes for Joel Krosnick and Richard Aaron. He was a member of Seattle's new music ensemble Scrape, founded by James Knapp, Eyvind Kang, and Bill Frisell. He is a current student at Oberlin College & Conservatory, studying classical violin under David Bowlin.
Riley has performed with Elvis Costello, Rhiannon Giddens, Darol Anger, Bruce Molsky, the Seattle Symphony, Altan, Laurie Lewis, Tristan and Tashina Clarridge, Dirk Powell, and John Herrmann.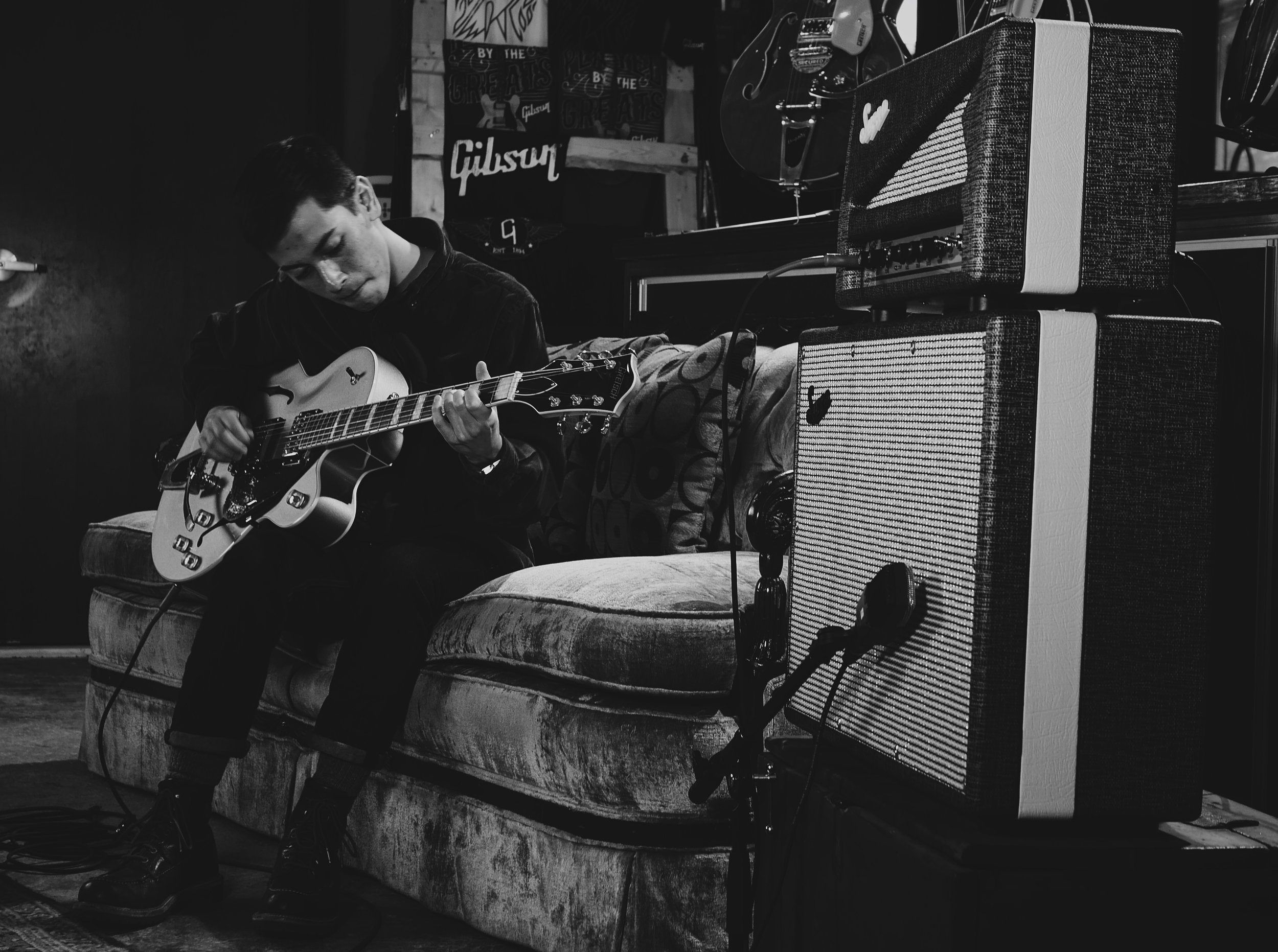 Ben Cruz is a guitarist, composer, and educator based in Chicago, IL. His music draws from a variety of traditions, combining forward-thinking composition with an emphasis on improvisation. Ben began playing guitar at the age of twelve, and studied jazz and improvisation from New York City-based guitarist Vic Juris. Ben went on study history and jazz performance at Oberlin College and Conservatory, where he was mentored by Bobby Ferrazza, Dan Wall, Jamey Haddad, Jay Ashby, Paul Samuels, Billy Hart, and Brian Alegant. Ben has performed with Gerald Clayton, Billy Drewes, Phil Markowitz, Billy Childs, Vijay Iyer, Anat Cohen, Dominick Farinacci, and Petros Klampanis, among others.

Amber Scherer
Classical Piano.
Amber Scherer, 21, currently studies piano performance with Alvin Chow at Oberlin Conservatory. This coming fall, Amber will perform Dvorak's Piano Trio, Op. 65, in Oberlin's Honors Series in Oakton, VA. She's excited, as well, to participate in several large ensembles, including Oberlin College Collegium Musicum and Sinfonietta during the 2018-19 season. Amber has soloed with the Oistrach, Harper, and Northeastern Illinois Symphony Orchestras. She is a scholarship recipient of the Chicago Women's League of Musicians and a prize-winner of the Arthur Fraser International Piano Competition, Music Teachers National Association Competition, and Chopin Foundation Scholarship Competition, among many others. Additionally, Amber is an avid chamber player. Over the past year, she performed duets and sonatas with Oberlin peers in Illinois, Nebraska, Ohio, and Tennessee. Amber frequently performs at senior homes both around her hometown and Oberlin. In high school, she helped organize collaborative music concerts that raised over $25,000 for the Chicago LEARN Charter School Network. Amber's love for community service has extended into her college life, where she will serve in her school's Conservatory Council of Students for the 2018-19 year and teach a Suzuki program at the Oberlin Community Music School.
Hesper Xu
Classical Piano.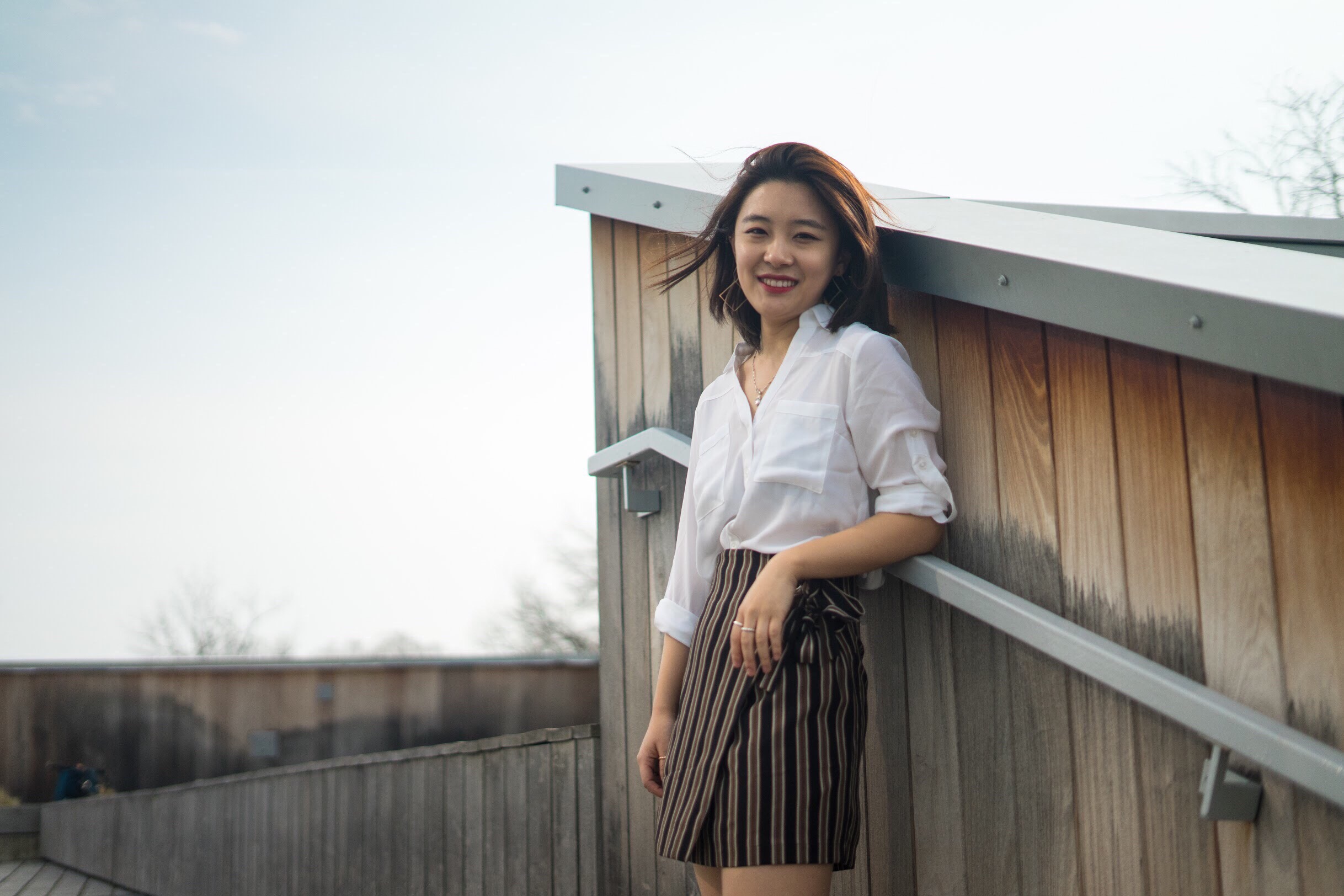 Nuo (Hesper) Xu is a fourth-year Piano Performance major at Oberlin Conservatory, currently studying with Mr. Robert Shannon. She will go on to attend Manhattan School of Music for her Master's in Piano this fall. She has also attended various summer music festivals and competitions, Macao piano competition, Cooper Piano Festival, Ithaca Music Festival, and Brevard Music Festival where she studied with Michael Chertok who serves as a chair of the keyboard division of University of Cincinnati. As a performer, Hesper has played between many cities in China. Hesper has also played at Florence Congregational Church in Ohio as an organist and pianist.
• BM, Oberlin Conservatory of Music, 2018
• Attending Manhattan School of Music for a Master's in Piano Performance
• Masterclasses with James Giles, Michale Chertok
• Winner of Macao Piano Competition 2013
• Organist at Florence Congregational Church in Ohio (2017-2018)
Corey Worley
Violin. Viola.
Corey Worley is a recent graduate from Oberlin College and Conservatory where he holds a BM in Viola Performance and a BA in Psychology. Currently, he is pursuing a Masters in Viola Performance at Le Conservatoire de Paris (CNSMDP) in Paris, France in the class of Pierre-Henri Xuereb. Teaching all ages since high school, Corey has been a chamber music coach for Credo Chamber Music (Chicago), a sectional coach for Northern Ohio Youth Orchestra, and conducted research on the History or French Viola Pedagogy at France's national library. Corey has performed throughout North America and Europe including recent performances with the International Contemporary Ensemble, members of Ensemble Intercontemporain, and was a featured performer at the Kennedy Center with his ensemble "Trio Ligatura." With a background in performance psychology, he has studied with Dr. Noa Kageyama (Juilliard's "Bulletproof Musician") and Dr. Jeffrey Huber (former US Olympic diving coach and IU performance psychologist). Corey believes in combining string pedagogical traditions with his research in performance psychology to not only develop reliable, healthy technique, but also teach students scientifically proven methods that aid in skill acquisition and developing a positive relationship with performance anxiety.
Fellow with the Lucerne Music Festival Academy, Conservatoire Américain de Fontainebleau, National Centre for the Arts Young Artist Program

Performances at Bang on a Can 30th Anniversary Concert, Madison New Music Festival, Ojai Music Festival, and Kennedy Center

Winner of XARTs grant, Taymor Fund Grant, and 4 Grand Prizes awarded by Conservatoire Américain de Fontainebleau

Member of Collaborative Arts Ensemble, New York City

Student of Peter Slowik and Elias Goldstein with masterclasses led by Heidi Castleman (Juilliard), Jean Sulem (Paris Conservatoire), and Juilliard, Emerson, Ebène, quartets

Phi Beta Kappa Society Member
Jossalyn Jensen
Violin. Viola.
Jossalyn Jensen, American violist, began her musical studies at age 4. Her solo debut with orchestra was at the age of 9 and she has since appeared in concert across the United States, Europe, and Asia. She received her Bachelor of Music from the Cleveland Institute of Music, studying with Jeffrey Irvine and her Master of Music at The Juilliard School, studying with Heidi Castleman and Misha Amory. She is a laureate of the Fulbright Scholarship to study in France at the Conservatoire national supérieur de musique et de danse de Paris with Jean Sulem. As an avid orchestral and chamber musician, she has collaborated with the Ensemble Intercontemporain, Orchestre Philharmonique de Radio France, Ensemble Calliopée as well as with members of the Cleveland, Cavani, and Juilliard String Quartets.
Jossalyn is passionate about teaching and sharing what she has learned with others. Her experience spans 14 years of private teaching, acting as an assistant professor to Jeffrey Irvine, and holding an ear training teaching fellowship at the Juilliard School. Jossalyn believes in tailoring her curriculum to the needs and goals of the student. Her pedagogical philosophy is that the solution to any technical or musical challenge is found through the mutual trust and discovery of student and teacher.
Salam Karahawa
Violin. Viola.
A longtime student of Moscow Tchaikovsky Conservatory's professors AliMukhtar Papaiev and Eliana Golikova, Salam Karahawa is a fourth-year student at Oberlin College and Conservatory. He is pursuing degrees in viola performance and politics while minoring in economics. A passionate educator utilizing scientifically proven methods for preventing injuries, Salam has worked with students between 5-24 years of age for more than eight years. Working on using body muscles most efficiently to avoid injuries, Salam has worked with Curtis Institute of Music faculty Pamela Frank and her husband physical therapist Howard Nelson on learning the dynamics involved in fluent and healthy body movement while performing. He has taken classes in and conducted research on Body Mapping and Kinesthetic Awareness with Oberlin professors Deborah Vogal and Kelly Wilson. His performances as a soloist, chamber musician, and an orchestra musician had spread from Yekaterinburg, Russia and Marseille, France to Beirut, Lebanon. Salam's philosophy in teaching relies heavily on Body Mapping and Kinesthetic Awareness principles as well as on constructing a robust technique where almost all body parts are engaged in creating a natural and sustainable practicing and performance habits that would lead to tangible results in both the short and long terms.
Current student of Peter Slowik with masterclasses with Marc Thayer, John McGrosso (Ariana String Quartet), Jooyeon Kong (Saint Louis Symphony), and Vitalii Pervishyn (Qatar Symphony Orchestra).

Activity coordinator and sectional coach for Northern Ohio Youth Orchestra (summer 2016).

Member of the Saint Louis Symphony Youth Orchestra (2015-2016)

Fellow in American Voices string summer programs in both Syria and Lebanon (2010-2014).

Ambassador and student liaison for American Voices organization.

Concertmaster of the Syrian Youth Orchestra (2009-2012).
Olivia Cosio
Classical Voice. Musical Theater.
Hailed as a "formidable talent" (San Francisco Classical Voice) and someone who "understands music's power to transcend" (Beyond the Concert Hall), mezzo-soprano Olivia Cosio has been recognized for her diverse abilities in both concert and opera repertoire. She is currently earning her Master's degree in Vocal Arts from The Juilliard School, where she studies with Sanford Sylvan. Recent engagements include her work as a Vocal Fellow with the Tanglewood Music Center, where she performed Susie in Bernstein's A Quiet Place, sang in the world-premiere of Michael Gandolfi's In America, and worked with world-renowned artists such as Dawn Upshaw, Stephanie Blythe, Margo Garrett, and John Harbison.
In May of 2018, Olivia completed her Bachelor of Music degree from the Oberlin Conservatory, where she performed three fully-staged operatic roles, went on tour with the Oberlin Sinfonietta to the Bang on a Can Festival in Brooklyn, and sang in masterclasses for esteemed artists such as Marilyn Horne. Olivia has been heard on NPR's "From the Top," featured twice in San Francisco Classical Voice Magazine, and is a recipient of several awards including the Avanti Award and Jack Kent Cooke Award. She holds prizes from competitions such as YoungArts and the Hal Leonard Vocal Competition.
She is a former Teaching Fellow at Breakthrough San Francisco, a national non-profit that provides educational resources and instruction to underserved students. She taught music, 7th-grade writing, and 6th-grade literature in 2015 and 2016. She believes in developing the right approach for each of her music students, with healthy singing being the focus of any genre.
Attending the Juilliard School for a Master's in Vocal Arts

Mezzo-soprano fellow at the Tanglewood Music Center

Performance/Interview on NPR's "From the Top"

Featured in "San Francisco Classical Voice Magazine

Teaching Fellow at Breakthrough San Francisco (Music, 6th grade literature, 7th grade writing).
Matthew Payne
Classical Voice. Musical Theater.
Matthew Payne is a rising 5th year at Oberlin Conservatory and College. This summer, Matthew was delighted to perform in three solo concerts at the Chautauqua Institution. Recently, Matthew performed in concerts with singers and pianists from institutions such as the Metropolitan Opera, Juilliard School of Music and the Curtis Institute of Music.
Matthew has performed in numerous operas and musical theater shows. Most recently, he was seen in Cleveland Opera's production of Moniuszko'sStraszny dwór and as Mr. Gobineau in Oberlin Opera Theater's production of Menotti's The Medium. In the fall, Matthew will be singing in Oberlin Opera Theater's Bernstein Review and in Oberlin Musical Theater Association's production of Cabaret. Matthew has also performed as a solo recitalist with the Society for New Music and as a concert singer with the Oberlin Cantata Project and Oberlin Baroque.
Artist at the Chautauqua Institute of Voice

Experienced Teacher of the Bel Canto Method

Master Classes with Gerald Finley and Steven Osgood

Named "an outstanding aria and recitative soloist" from Cleveland classical

Featured on Broadway.com
Micah Gleason is currently finishing her undergraduate studies at the Chicago College of Performing Arts. She will graduate with a Bachelors of Music in Vocal Performance and Music Education, with a choral emphasis. Michaela studies voice under the tutelage of Judith Haddon, and conducting under the tutelage of Stephen Squires. Micah has performed as a vocalist in a variety of settings, both as a soloist and an ensemble member. Highlights include Alto Soloist in the Mozart Requiem, Bach Magnificat, and Buxtehude Membra Jesu Nostri; the role of Polly Peachum in Britten's The Beggar's Opera and Ms. Nolan in Menotti's The Medium; and a great variety of art song repertoire ranging from Lieder to Melodie, to Spanish and Russian folk songs. Recent performances have included performing Brahms Op. 91, Manuel de Falla's Siete Canciones Populaires Españolas; as well as conducting choral works both in Chicago and abroad in Oxford. She currently serves as the Alto Artist in Residence with the Rockefeller Chapel Choir at the University of Chicago, and the Alto Section Leader at the United Church of Hyde Park.